Sughd military prosecutor gives extraordinary press conference
Submitted by

admin

on 12.06.2015 - 15:03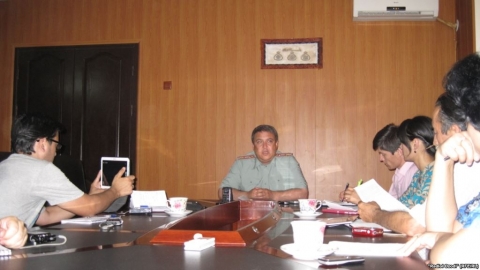 Sughd military prosecutor Abduqodir Nourov gave an extraordinary press conference in Khujand yesterday over the recent deadly hazing incident that took place on June 7 in military unit 04080 deployed in the city of Konibodom.
According to him, the Sughd military prosecutor's office has launched an investigation into the death of Private Firdavs Rahmatov.
"Investigation has established that Firdavs Rahmatov died after being severely beaten by older soldiers Rabboni Sulaymonov, Komron Rahimov and Ayom Nazarov," the prosecutor said noting that criminal proceedings have been instituted against Sergeant Sulaymonov and Sergeant Rahimov under the provisions of Article 391 (3) of Tajikistan's Penal Code – abuse of authorities entailing grave consequences or death, while criminal proceedings against Private Nazarov have been instituted under the provisions of Article 373 (2) – violation of army rules.
"Soldiers may telephone the military prosecutor or senior representatives of the State Committee for National Security (SCNS)'s office in the province to report alleged hazing at any time of day or night so that we could come to the scene and take relevant measures," Nourov said.
He further noted that military unit 04080 was provided with surveillance cameras but the incident had taken place at the Nourafshon training ground in Isfara.