Case History №10: Parviz Dustmatov
Submitted by

moderator

on 05.12.2016 - 08:45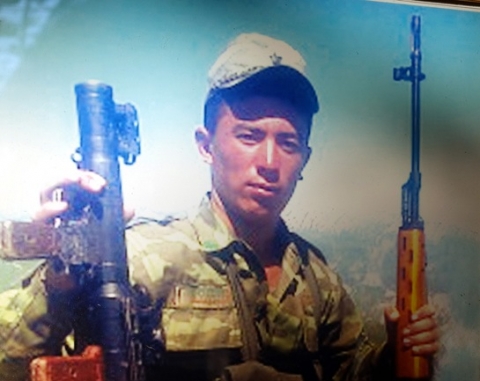 Parviz had only 2 months left before the completion of his service. However, instead well- matured son, his mother received his body for burial. The 18-year-old Parviz Dustmatov graduated with honors from high school in his native Jamoat Khistevarz, Bobodzhon Gafurov district of Sughd region and dreamt about the Police Academy.  The boy was short heighted and was missing only centimeters to achieve his dream.
"Well, Mom, I would rather join the army. You'll see, two years will pass quickly, and I could grow a bit. And it a try again to enter the Academy!"- said Parviz to his mother. She did not argue with him, approving her son's decision.  
His mother remembers that very well, 1 of October 2013, when the whole neighborhood gathered to bid farewell to Parviz. The older neighbor blessed him before the journey wishing him to return home safe and sound. Thus the young man voluntarily surrendered to the military commissariat.
He served in a military unit in the Kurgan-Tube for more than a year, twice came home for vacation. In fact he had grown up for this period, got stronger! He was bringing a lot of pictures of his life in the army. Here he is surrounded by his fellow servicemen, this picture is taken during the trainings, with a machine gun in his hands, all grown up!
Later he was transferred to the border, to relatively cold after the Vakhsh valley and a distant Darvoz. Apparently due to the climate change, Parviz caught a cold and was lying in the hospital for a while. After long sleepless nights in thoughts of her son's health, his mother decided to visit him. It was March 2015. She hardly found the military unit where Parviz was serving, and found some peace once she saw him. If only she knew that this was their last meeting, she would never let his go…
The spring passed quickly and summer came. Parviz was doing very well; he had already adapted and had only three months before the end of his service. Early in the morning of July 13, 2015 the barracks was still asleep. What Parviz was dreaming about that summer morning? Perhaps he dreamed how his returning home, hugging his father and mother, inhales the smell of his native village, and such delicious homemade bread, baked specially for him by his mother? Perhaps he saw himself as new cadet of the Police Academy greeted Head of the Academy for beginning a service in the law enforcement bodies ...
Rainbow dreams were unexpectedly interrupted when his fellow soldier Farrukh Bozorov shouted in the ear of sleeping Parviz to wake up. Parviz almost jumped on the bed and asked him to stop yelling starting a verbal quarrel between the young men and Farrukh quickly left the barrack. "Thanks God, he came down" - thought Parviz and closed his eyes in slumber since he still had few minutes before getting up. Suddenly, Farrukh took a knife and thrust it into his colleague's chest in the very heart of Parviz.
Later, in the court, he will swear that he did not want to kill Parviz, and did not even realize how rashly he took a knife... But for us this wild case is a clear indication of hazing in this Unit where neither the Duty officers no senior officers controlled the soldier's behavior, which eventually resulted in murder.
According to Parviz mother Mukarrama Dustmatova her son was alive for about one and a half hours, and during that time there was a chance to save him.
According to Shohin Hafizov, Commander of the Military Unit of the Defense Ministry in Sagirdasht, due to the absence of a helicopter they failed to take Parviz to the capital's hospital in time. The soldier was taken to a local hospital, but there was not the necessary conditions and medical equipment. His heart stopped.
That's how the family was hit by unexpected grief.  On a sultry July day the Defense Ministry car stopped at the gate of the house in Jamoat Khistevarz and the body of 20-year-old Parviz was handed to unfortunate parents with the words "Everything in the hands of the Almighty".
Inconsolable mother at her son's grave...
"He had 80 days before the end of his service. I raised a son, he voluntarily joint the Army to pay his duty to the motherland, and the Motherland returned me his lifeless body. How can we trust the government? How can we send our sons to the army?"- says Dustmatova Mukarrama.
According to her, after the funeral, she again went to Sagirdasht, but no one gave her clear answers to what happened that tragic morning, and how could it happen at all?
"I saw the initial results of forensic medical examination, while there different results in the court. We were not aware of our rights, turned to a lawyer too late, but still Farrukh Bozorov was sentenced to 8 years in prison. And want we get?? Nobody will return our son", - says the grief-stricken mother of Parviz.
We talked with her in the yard of their home. On the couch – there were army photos of Parviz, a lot of pictures. The mother gently touches each, peers, and tears are flowing on her cheeks.  Bitter mother's tears. What words of comfort can be found in such moments? Personally, I had a lump suck in the throat, could not say a word. Silence...
- Look, do you see this new house? This was supposed to be Parviz and his future wife's house. We wanted him to marry this summer, but instead will hold his death anniversary.
The house was supposed to be a surprise for her son. The house was built long time ago, right here, next to his parent's home, in the same yard. But is was fully refurbished shortly before Parviz's death.
- Can I see it? - I asked Parviz's uncle, who is sitting with us.
- Oh sure. Here the leaving room, this is a bedroom, this room was assigned for his future children. And there is a kitchen and a bathroom. You see how much love we allocated in this house, everything was thought in very details.
Indeed, the spacious and comfortable rooms, beautiful furniture and all necessary appliances -  no different from the capital apartments.
- Do you know, when Parviz came home for the last time, he noticed the relatives preparations for his future wedding and jokingly asked his grandfather: "Have you already found a bride for me too?".
The heart of the poor grandfather could not stand - he died three months after the death of his beloved grandson. For more than a year the mother's heart is tearing with pain too ...
Materials was prepared in the frame of the project on "Actions against torture in Kazakhstan and Tajikistan", with financial assistance of the European Union The contents of this materials  are the sole responsibility of the organizations issuing it and can under no circumstances be regarded as reflecting the position of the European Union. 
Log in to post comments

1002 reads