Case History №9: Abduvahob Kayumov
Submitted by

moderator

on 03.12.2016 - 08:47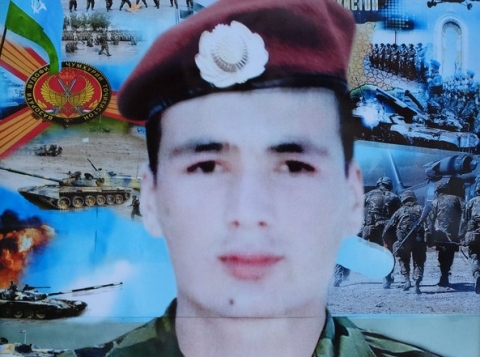 This woman is wearing mourning dress for a year, since she buried her eldest son, though every morning she is expecting the gates open and he is entering, so handsome and young, saying: "Mom, I'm back!". Sometimes in her dreams, he says the same words: "I came back, here I am!", and she hugs and kisses him, feeling the warmth of his hands, and once awaking she realizes that it was just a dream. He will never return, and this makes her conditions ever more painful.
- grief-stricken mother...
Abduvahob Kayumov, a native of Jamoat Khistevarz, Bobodzhon Gafurov district of Sughd region dreamt about the military academy and becoming a professional officer, and therefore the next day after turning 18, on 5 of May 2015 he voluntarily surrendered to the local military commissariat. On 11 of May he was taken to Dushanbe, and two weeks later his parents arrived in the capital for the Oath of Enlistment Ceremony.
If fate had decided otherwise, and Abduvahob's dream came true, what a handsome cadet would the Military Academy get! Strong young man, 181 cm tall and with big muscular shoulders. His parents could not stop admiring him - he looked so serious and matured during the Oath Ceremony!
"We talked to the commanders and they thanked us for raising such a good son, assured us not to worry about him. They spoke so politely. We left with the peace of mind", - says Zarina, Abduvahob's mother.
On Saturday, 4 of July, Abduvahob was assigned to the military unit #2747 of the Border Troops SCNS RT in Panj district. "He phoned us immediately upon arrival in Panj, he said that there are another 11 conscripts arrived together with him and asked not to worry" - continued his mother.
The next day, 5 of July, Ensign Khisrav Odinaev who was senior on duty that day, arbitrarily left from the Unit, and senior conscripts Sergeant Shukhrat Yakubov and Ismoil Mamadyorov decided to take advantage of this circumstance. They ordered the new conscripts to gather immediately after lunch, at 13 o'clock, in the barracks, where instead of resting they lined them for inspection. Those who were late for the fake combat formation were severely beaten.
Mamadyorov and Yakubov beat their fellow soldiers with a wooden stick at the back. Flying into a rage Mamadyorov started to beat the late comers for the second round causing Kaymov injuries incompatible with life. Abduvahob lost consciousness and died on the way to the hospital. According to the results of forensic medical examination, his death was caused by multiple injuries from blows with a blunt object, and fractured cervical vertebrae.
"Abduvahob called us that day, just half an hour before the lunch, at 11:30a.m. At 12 o'clock they had a scheduled dinner, and they started to beat him at 13:00 p.m., immediately after the lunch. On 6 of July they brought our son, his body was covered with bruises, with fractured neck vertebrae, "- says the unfortunate mother, who got a nervous tic after the tragedy, and now is going through therapy. Even now, telling the story of her son, she again and again passes the tragedy through herself and tears begin to flow from her eyes straight at her son's portrait, which she holds in the hands and her lips began to twitch sharply. I stopped the interview and hold her hand. Silence. During these few minutes each of us is deep in our thoughts. She might thought of turning the time back and she would never let her son to join the Army which takes persons alive full of health, and return the lifeless body; while I was thinking when these horrific cases of "hazing" in the military will end, which stain not only the military, but also the State which they are supposed to protect?
While we were sitting in silence, Abduvahob's father Abdusalom Kayumov returned from cemetery. A few years ago, his son, planted some trees near the graves of his grandmother and uncle, and now lying himself in the shade of these trees. Mother has never visited her son's grave. She cannot, faints immediately. She refuses to believe that her beloved son is dead.
Father left to care for the grave of his son
She cannot even enter the yard of the unfinished house, where Abduvahob was supposed to bring his bride after the wedding. The house is very close to his parent's home, there is a big lock on the gates. Abduvahob was in love with his neighbor, his classmate, and was going to marry her. The young lady recently married, but every time she comes to visit her mother, she makes sure the greet Abduvahob's mother.
"If only I could close my eyes and imagine that this is a nightmare. That my son is here, in the house next door lives with his wife, and I babysit my grandchildren. But I got the bitter fate ..."- says Zarina with sorrow in her voice.
….A criminal case was launched against Yakubov  Shuhrat and Ismoil Mamadyorov for Deliberate infliction of grievous bodily harm and violating the Rules of Conduct prescribed by Military Regulations in governing relations between military men not subordinated to each other. The service Ensign Khisrav Odinaev, who unlawfully left his post was charged for Negligence.
The court found Shukhrat Yakubov and Ismail Mamadyorov  guilty and sentenced them to 17 and 16 years in colony, respectively. Ensign Khisrav Odinaev was sentenced to two years' imprisonment in a penal colony.
Materials was prepared in the frame of the project on "Actions against torture in Kazakhstan and Tajikistan", with financial assistance of the European Union The contents of this materials  are the sole responsibility of the organizations issuing it and can under no circumstances be regarded as reflecting the position of the European Union. 
Log in to post comments

820 reads