Court rejects suit brought by prisoner's mother against the penitentiary department
Submitted by

moderator

on 17.06.2016 - 16:57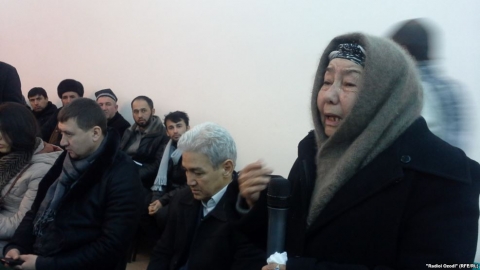 A court in Dushanbe's Ismoili Somoni district has rejected the suit for moral damage bought by the mother of a prisoner, who died after he was allegedly beaten, against the Penitentiary Department at the Ministry of Justice.
We will recall that Lubat Burhonova, the mother of prisoner Dilshodbek Murodov, in March filed a lawsuit in a court in Dushanbe's Ismoili Somoni district demanding the Penitentiary Department pay 334,950 somoni in damages for moral losses.  
Dilshodbek Murodov was sentenced to six years in prison for drug trafficking.  In August 2009, Dilshodbek Murodov was taken comatose to the prison's medical unit, where he died without coming to his senses.
The Prosecutor-General's Office has instituted criminal proceedings over this case under the provisions of Article 110 (3) of Tajikistan's Penal Code - deliberate infliction of serious bodily injury that entailed neglect death.  However, investigation into the case has been stopped four times in the absence of the criminal event.
The Ismoili Somoni district court began consideration of the case pitting Lubat Burhonova against the Penitentiary Department on June 8, and on June 16, it ruled to reject the suit.
Murodov's family lawyer, Abdurahmon Sharipov, says the court justified its decision by saying that person guilty of Murodov's death has not been established.
Sharipov denounced the ruling and vowed to appeal to the higher court.
Log in to post comments

815 reads