Pre-trial detention of human rights lawyer Shukhrat Kudratov
Submitted by

admin

on 25.07.2014 - 23:54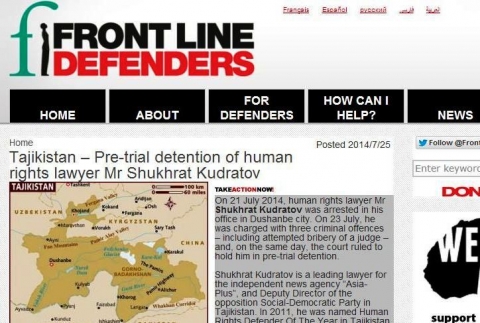 On 21 July 2014, human rights lawyer Mr Shukhrat Kudratov was arrested in his office in Dushanbe city. On 23 July, he was charged with three criminal offences – including attempted bribery of a judge – and, on the same day, the court ruled to hold him in pre-trial detention.
Shukhrat Kudratov is a leading lawyer for the independent news agency "Asia-Plus", and Deputy Director of the opposition Social-Democratic Party in Tajikistan. In 2011, he was named Human Rights Defender Of The Year in Tajikistan by the local Bureau for Human Rights and Rule of Law. Shukhrat Kudratov is one of few lawyers in Tajikistan who defends opposition activists, victims of police torture, and those accused of "religious extremism".
Last year, Shukhrat Kudratov was one of three lawyers representing Mr Zaid Saidov, a local businessman and prominent opposition figure, who was arrested in November 2013 and sentenced to 26 years' imprisonment plus confiscation of his property. Zaid Saidov's arrest came after he announced the creation of a new opposition party leading up to the December 2013 presidential elections in Tajikistan. After the Saidov trial, his lawyers were targeted by the authorities.
On 7 March 2014, the governmental anti-corruption agency (the Agency for State Financial Control and the Fight Against Corruption of the Republic of Tajikistan) arrested another of Zaid Saidov's lawyers. Mr Fakhriddin Zokirov was charged with fraud on allegations relating to his credit payments. Fakhriddin Zokirov remains in detention.
Following the Saidov trial, one of the official victims filed a civil law suit against Shukhrat Kudratov for "moral damage", claiming that the human rights lawyer had offended her. Shukhrat Kudratov petitioned the judge to grant him access to the audio records used by the complainant as the main evidence of the offence, but the judge rejected the petition. On 17 April 2014, Shukhrat Kuratov filed a complaint to the Ministry of Justice against the judge. On 19 June 2014, the court in Dushanbe ruled to fine Shukhrat Kuratov in absentia for 200,000 Tajikistan Somoni (approximately € 30,000) for "moral damage".
On 15 July 2014, Shukhrat Kudratov issued a public letter addressed to foreign parliaments, governments, embassies and international human rights organisations drawing their attention to the main violations during the Saidov trial. In the letter, the human rights lawyer also highlighted the ongoing persecution of Zaid Saidov's legal team.
The governmental anti-corruption agency alleges that Shukhrat Kudratov received $ 2,500 (US dollars) from a defendant for the purposes of transferring a financial bribe to the local judge. On the day of his arrest, Shukhrat Kudratov publicly denied this allegation. He currently remains in detention.
Front Line Defenders urges the authorities in Tajikistan to:
1. Immediately release Shukhrat Kudratov in relation to the charges of bribery, and quash the civil fine as Front Line Defenders believes that he has been targeted as a result of his peaceful and legitimate work as a human rights lawyer;
2. Immediately cease all harassment of Shukhrat Kudratov and other human rights lawyers connected to the trial of Zaid Saidov;
3. Guarantee in all circumstances that all human rights defenders in Tajikistan are able to carry out their legitimate human rights activities without fear of reprisals and free of all restrictions.
Log in to post comments

901 reads