Programme Office in Dushanbe conducts capacity-building seminar on human rights guarantees for detained persons
Submitted by

admin

on 31.08.2017 - 12:19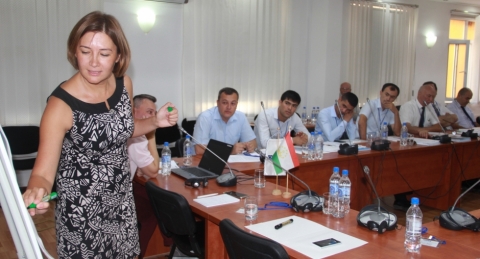 The OSCE's Programme Office in Dushanbe opened a three-day training seminar on the rights of persons arrested and detained by law enforcement agencies on 29 August 2017 in Dushanbe. 
Some 25 justice system stakeholders, including representatives of the Ministry of Internal Affairs of Tajikistan and members of Public Councils, which conduct public monitoring of police activities, will be participating in the training course. Members of the Ombudsman's Office and civil society will also attend.
The training course is being led by three experts, including two local legal practitioners. Topics include protection against torture and ill-treatment and the function of an independent closed facilities monitoring programme.
"The interactive training agenda will encourage participants to step outside of their normal professional roles and into the role of different stakeholders in the criminal justice process, such as judge, prosecutor and defense attorney," said Charles Bolland, OSCE Rule of Law Officer. 
The Office's Counter-Terrorism and Police Issues Advisor, Dmitry Kaportsev, added: "The power to arrest and restrict someone's freedom brings with it an obligation to ensure that all persons are treated with respect and human dignity."