Quvvatov's wife applies to Amnesty International for help
Submitted by

admin

on 09.01.2013 - 13:42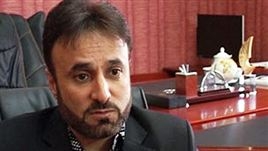 Qumrinisso Hofizova, the wife of Umarali Quvvatov who is the leader of the Group 24 opposition movement, has applied to Amnesty International with solicitation to assist with solving the problem about her husband.
Mr. Umarali Quvvatov positions himself as entrepreneur who became politician and was forced to flee to the Russian Federation following "certain problems he faced in homeland."
Umarali Quvvatov was arrested in Dubai, United Arab Emirates (UAE) on December 23, 2012 at the request of Tajik authorities.  He is being accused of illegally obtaining about $1.2 million through fraudulent business activities.
His supporters, however, consider that his arrest might be politically motivated.  Quvvatov set up the Group 24 opposition movement last summer.
Radio Liberty's Tajik Service reports that Quvvatov has denounced the fraud case against him and accused Tajik President Emomali Rahmon of running a "totalitarian regime."  In an open letter smuggled out of the detention center where he is being held, Umarali Quvvatov said the accusations leveled against him were "a direct consequence" of his battle against the "oppression of the Tajik people" by Rahmon's government.
Qumrinisso Hofizova told Radio Liberty's Tajik Service on January 8 that she has asked Amnesty International to interfere in her husband's case and not to allow extradition of Quvvatov to Tajikistan, where he would be at risk of torture and other ill-treatment.
According her, she sent similar applications to the U.S. Embassy in Dushanbe and the OSCE Office in Tajikistan as well.