Umarali Quvvatov's fate expected to be decided in August
Submitted by

admin

on 31.05.2013 - 08:34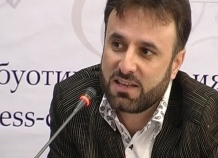 A court in the United Arab Emirates (UAE) will consider an appeal regarding the extradition of the leader of Tajik opposition Group 24, Umarali Quvvatov, to Tajikistan on August 18.
We will recall that the Dubai court authorized the extradition of Umarali Quvvatov to Tajikistan on April 14.
The Tajik authorities insist on extradition of Umarali Quvvatov.  Tajik Prosecutor-General, Sherkhon Salimzoda, told journalists on January 9 that Tajikistan has sent an official extradition request to the Dubai law enforcement authorities for Umarali Quvvatov.  The Agency for State Financial Control and Combating Corruption has instituted criminal proceedings against Umarali Quvvatov, Tajik chief prosecutor noted.
Umarali Quvvatov was arrested in Dubai, United Arab Emirates (UAE) on December 23, 2012 at the request of Tajik authorities.  He is being accused of illegally obtaining about US$1.2 million through fraudulent business activities.
His supporters, however, consider that his arrest might be politically motivated.
Quvvatov reportedly set up the Group 24 opposition movement last summer.  The group has publicly criticized the widespread corruption under the head of state of Tajikistan, President Rahmon.  The group recently called for President Rahmon's resignation and questioned the likelihood of the upcoming Presidential elections being democratic and fair.  The group also criticized President Rahmon's handling of the military conflict in Gorno-Badakhshan Autonomous Province in summer 2012.
Radio Liberty's Tajik Service reports that Quvvatov has denounced the fraud case against him and accused Tajik President Emomali Rahmon of running a "totalitarian regime."  In an open letter smuggled out of the detention center where he is being held, Umarali Quvvatov said the accusations leveled against him were "a direct consequence" of his battle against the "oppression of the Tajik people" by Rahmon's government.
A statement released by Amnesty International on January 11 says that Tajik businessman Umarali Quvvatov risks extradition to Tajikistan by the United Arab Emirates' (UAE) authorities, where he would be at risk of torture or other ill-treatment.  Amnesty International believes that if returned to Tajikistan, Umarali Quvvatov will be at serious risk of grave human rights violations, in particular incommunicado detention, torture and other ill-treatment, and unfair trial.  "If Umarali Quvvatov is extradited, the UAE authorities will be violating their obligations under the absolute prohibition of torture and other ill-treatment under international law," the statement said.
Log in to post comments

796 reads