Witnesses states at the trial against the prisoners in Khujand that their "testimonies" was written by the investigator
Submitted by

admin

on 03.08.2013 - 18:41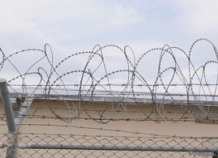 The court hearing for the cases of Sunatullo Rizoev and Sadriddin Toshev continued today behind the closed doors in the building of Khujand prison # 2. 
On Friday, August 2, the trial continued, however the journalists were not allowed to the courtroom, despite the fact that this was an open process.
As is was reported to the "AP" by Abubakr Kulmatov – the attorney of Sunatullo Rizoeva, the lawyers of the convicts were appealing during the week to move the trial to the city courthouse of Khujand, but there is still no decision made on the petition, and according to the presiding judge Musulmon Sharipov, the reason for holding the trial in the CISO premises is that the institution does not have the means to convoy the convicts from the prison to the city court. 
However, the lawyer is assured that there is another reason for not holding a hearing in the city's courthouse. "I think they do not want the secrets of the judicial investigation became known to the public, as well as facts of using torture against my client Sunatullo Rizoev, as well as against the other defendant Sadriddin Toshev and other convicts transferred from the penal colony of 3/1 of Dushanbe to the penal colony 3/3 of Khujand. Probably for this reason, they hold the trial at the detention center where it is prohibited to bring video and audio equipment, to allow additional witnesses, as well as journalists to cover the process"- he said.
According to the lawyer during the trail the court questioned the witnesses that were presented by the state prosecutor, and retracted their testimonies which were given during the preliminary investigation, claiming that they were not given such evidence, some evidences were recorded by the investigator Parviz Kosimov who led the investigation of the criminal case.
"An objective examination of the case can not be enforced until the court engage the media, until the hearing could be freely captured on tape. When I asked the judge to use the recorder, he told me that the Criminal Procedure Code provides for the use of the tape recording and has not given permission"- said Kulmatov.
The court postponed until Monday, Aug. 5. According to the lawyers, the defendants have already stated that if the hearings will not be moved to the building of the city court, then they will refuse to take part in the trial.
Toshev and Rizoev were among a large group of prisoners which were transferred last fall to Khujand colony from the prison #1of Dushanbe, after the death of the convicted Ikromzoda Hamza. His family still claims that the body of Hamza had clear signs of torture, while experts announced that Ikromzoda died in the result of self-hanging.