Torture prevention issues discussed at the EU – Tajikistan civil society seminar
Submitted by

admin

on 11.12.2012 - 10:58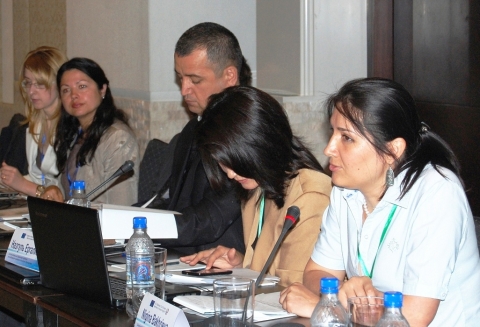 EU – Tajikistan civil society seminar on the freedom from torture and other cruel, inhuman or degrading treatment or punishment was held on 12-13 June 2012 at the Hyatt Regency Hotel, Dushanbe.
Organized by the EU Delegation in Tajikistan in cooperation with Tajik NGO coalition against torture and with the participation of the Government of Republic of Tajikistan, the two-day event served as an open forum to examine torture prevention related matters, exchange views and best practises and discuss ways forward.
The seminar brought together over 70 participants, including representatives from the civil society all over the country, European experts, Government officials, international organisations and diplomatic representatives. Experts from well known international NGOs dealing with torture prevention, such as Amnesty International, Association for the Prevention of Torture, Physicians for Human Rights and Penal Reform International were also taking at the event.
Participants considered various aspects of freedom from torture, discussing the general context conducive to instances of torture in Tajikistan; looking at the legal and practical problems leading to torture in the criminal justice system; and torture and other forms of ill treatment in close institutions. They also reviewed international best practises for combating torture and further work on the development of an anti-torture strategy for Tajikistan.
The civil society representatives adopted number of recommendations aiming to enhance torture prevention in Tajikistan. As a usual practise, recommendations will be then submitted by the EU Delegation to the Government of the Republic of Tajikistan and further discussed during the upcoming round of the EU – Tajikistan Human Rights Dialogue which is planned to be organised in autumn this year.
The EU - Tajikistan civil society seminar is a part of the annual Human Rights Dialogue organised between the European Union and the Government of the Republic of Tajikistan to discuss wide range of issues in the field of human rights. The Dialogue has been introduced since the adoption of "The EU and Central Asia: Strategy for a New Partnership" by the European Council in June 2007 and aims at promoting respect for human rights, fundamental freedoms and democracy.
The European Union, composed of 27 Member States, is the world's biggest aid donor. Tajikistan gets the main share of bilateral assistance in the Central Asian region (€66 million for 2007-2010 and 62 million for 2011-2013) in support to sector programmes, technical assistance and grants. It focuses on social protection, health and private sector development, underpinned by public finance management. Tajikistan also receives regional and thematic assistance in areas like border management and drug control (BOMCA/CADAP), education (TEMPUS, Erasmus Mundus), water / environment, migration, human rights and democracy (EIDHR), non-State actors (NSA) and SME development (CA-Invest). The EU is active inTajikistan since 1992 and provides approximately EUR 25 million annually in development assistance.
Log in to post comments

1212 reads