"Combating Torture: Experience and Achievements": Supreme Court of the Republic of Tajikistan
Submitted by

admin

on 28.10.2022 - 23:03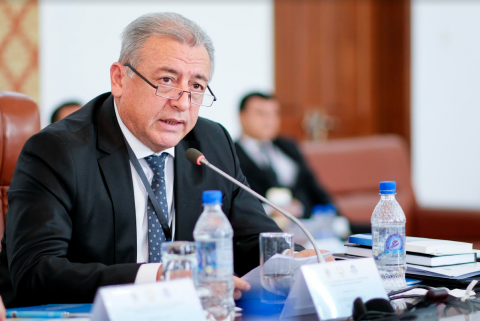 "Torture is a serious crime," stated Shavkat Lutfullozoda, First Deputy Chair of the Supreme Court of the Republic of Tajikistan on October 25 in Dushanbe, speaking at the conference "Combating Torture: Experience and Achievements." According to him, Article 5 of the Universal Declaration of Human Rights states that "No one shall be subjected to torture or to cruel, inhuman or degrading treatment or punishment." The UN Convention against Torture states that "No exceptional circumstances... may be invoked as a justification of torture". Tajikistan acceded to this Convention against Torture and Other Cruel, Inhuman or Degrading Treatment or Punishment on July 21, 1994, this document entered into force for Tajikistan on February 10, 1995. Having acceded to the current Convention the Tajik authorities have committed themselves to protect all those under their jurisdiction from torture and other ill-treatment, to reflect in the legislative framework and to ensure compliance in practice with the principles outlined in the Convention, to cooperate with the Committee against Torture and implement its recommendations.
Thus, Lutfullozoda continued, in 2012 a new article "Torture" was added to the Criminal Code of the Republic of Tajikistan, and in 2020 the liability for torture was strengthened. The Code of Criminal Procedure was amended, and under Article 88 of the CCP RT, evidence obtained under torture (or through cruel and degrading treatment) is deemed inadmissible. The Law "On the Procedure and Conditions of the Detention of Suspects, Accused and Defendants" was signed, and the Supreme Court adopted a Resolution of the Plenum of the Supreme Court of the Republic of Tajikistan "On the Application of the norms of Criminal and Criminal Procedural Law on Combating Torture". Tajikistan has accepted most of the recommendations of the UN Human Rights Council made under the UPR procedure, etc.
According to the Supreme Court, in 2018 the courts examined 1 criminal case under Article "Torture" against 2 people, in 2019 there were two such criminal cases against 4 people, in 2020 there were none, and in 2021 there was 1 criminal case against 3 people.  
The conference was organized by the Civil Society Coalition against Torture and Impunity in Tajikistan together with the Prosecutor General's Office of the Republic of Tajikistan with the assistance of the OSCE Program Office in Dushanbe, International Commission of Jurists and Sigrid Rausing Trust.
The main purpose of the conference was to discuss pressing issues in the area of combating torture and ill-treatment in Tajikistan.
The conference was attended by international experts, representatives of state bodies, law enforcement agencies, courts, the prosecutor's office, the Office of the Commissioner for Human Rights in Tajikistan, international organizations and embassies, as well as public organizations, members of the Civil Society Coalition against Torture and Impunity in Tajikistan, and the mass media.