Exhibition of torture victim photos to be held in Tajikistan on June 26
Submitted by

admin

on 22.06.2018 - 12:27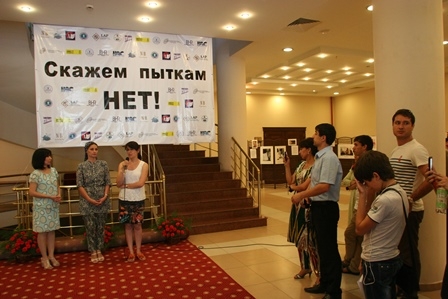 Dedicated to the International Day in Support of Victims of Torture, an exhibition of torture victim photos will be held in three cities of Tajikistan – Dushanbe (Dushanbe-Plaza Center), Khujand (head office of Arvin Limited Liability Company) and Bokhtar (Maftouna Hotel) – on June 26.  Eighteen stories about victims of torture will be presented at the upcoming exhibition.    
An award ceremony for winners of the contest on the best material about problems of torture in Tajikistan as well as the most active visitor of the NGO Coalition against Torture in Tajikistan website (notorturetj.org) will take place on the sidelines of the event. 
Representatives of the government bodies, non-government and international organizations active in Tajikistan and media have been invited to attend the event. 
Multimedia material on cases of eighteen victims of torture will be posted on social networking sites within the next few days.  
Organized by Tajikistan's Bureau on Human Rights and Rule of Law (BHR), the first exhibition telling nine photo stories of victims of torture was held in Dushanbe on June 25, 2013.  The stories were based on cases of six Tajik nationals – Hamzali Ikromzoda, Khurshed Bobokalonov, Bahromiddin Shodiyev, Safarali Sangov, Ismoil Bachajonov and Dilshodbek Murodov, who died during detention or in prison.  Three other photo stories telling similar facts were provided by BHR's partners from Kyrgyzstan, Kazakhstan and Turkmenistan.
The United Nations International Day in Support of Torture is held annually on June 26 to speak out against the crime of torture and to honor and support victims and survivors throughout the world.
The day was selected by the United Nations General Assembly for two reasons.  First, on June 26, 1945, the United Nations Charter was signed – the first international instrument obliging UN members to respect and promote human rights.  Second, June 26, 1987 was when the United Nations Convention Against Torture came into effect.  The decision to annually observe the International Day in Support of Victims of Torture was taken by the UN General Assembly at the proposal of Denmark, which is home to the world-renowned International Rehabilitation Council for Torture Victims (IRCT).  The first 26 June events were launched in 1998. Since then, nearly 100 organization in dozens of countries all over the world mark the day each year with events, celebrations and campaigns.
This year, all UN anti-torture mechanisms and regional mechanisms speak with one voice, recalling the remarkable progress made towards the eradication of torture over the last 70 years, but also reminding that torture is not synonymous with the past.