Human rights NGO urges partygoers to take action against police officers
Submitted by

moderator

on 23.05.2016 - 10:53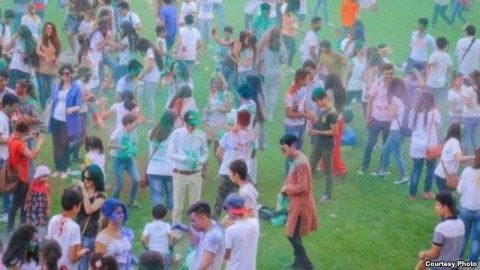 Celebrations marking the Holi Festival of Colors (a Hindu spring festival) in Dushanbe turned sour after a number of young partygoers claimed they had been arrested and abused by the police.
The NGO Coalition Against Torture (Coalition) has urged the partygoers who suffered from police miscoduct to take action against the police officers, and offered to represent them in court.
Coalition representative, Ms. Dilrabo Samadova, told Asia-Plus that parents of four minors had already applied to them for help.
Platforma, a Tajik- and Russian-language public group on Facebook, was among the first social-media accounts to post a 16-minute recording, allegedly made on a mobile phone in the police station.
Platforma claims that some 200 people -- many of them underage children -- were taken to a police station in Dushanbe's Ismoili Somoni, where they faced beating, swearing, and humiliation.
In the recording, male voices can be heard swearing and insulting and there are sounds suggesting the exchanges become physical.
The recording that was shared on May 18 sparked outrage and calls for immediate probes.
Ms. Samadova says they have studied the recording and concluded that the police officers beat the detainees 25 times during the 16 minutes recorded.
Local NGO Alegriya, which is organizer of the celebrations, said it had obtained an official permit to invite 400 people to the gathering to mark Holi.
Meanwhile, Radio Liberty's Tajik Service reports that the Interior Ministry is asking a group of young partygoers briefly detained and possibly roughed up by police last week to come forward with any complaint about alleged mistreatment.
The unusual request follows public complaints by a parent and rights activists, and the posting on social media of an audio recording that purportedly captured police officers insulting and beating young men and women in custody, RFE/RL's Tajik Service said.
A ministry spokesman, Jaloliddin Sadriddinov, reportedly confirmed on May 19 that the young Tajiks were detained on the street in the capital, Dushanbe, after attending a Hindu spring festival late on May 15.
Sadriddinov said the revelers were released after questioning by police and he had no information about any mistreatment, adding, "But if the victims file official complaints, the ministry will investigate the case."
Log in to post comments

743 reads