The prisoners parents seek justice at the Presedential Apparatus
Submitted by

admin

on 08.02.2013 - 13:34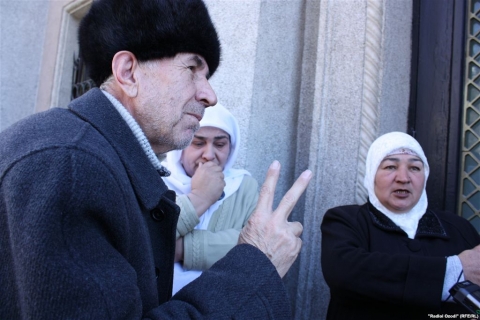 Parents of several prisoners, concerned about the fate of their children, gathered in front of the Presidential Palace.
Parents appealed to the President of the country to conduct a fair investigation of the facts of torture against their children in detention centers.
Faizali Ikromov the farther of Hamza Ikromzoda, who died in September last year in the prison#1 of Dushanbe, told the Radio "Ozodi" that, he together with other parents want to convey to the President Emomali Rahmon their complaints regarding the unfair investigation into facts of torture against their children in prisons.
Faizali Ikromov is certain that the officers that are responsible for the death of his son continue to work in the prison #1 of Dushanbe and no one is going to punish them. He says that "the witnesses of his son death were forced to remain silent".
Mehnigor Rizoeva mother Sunnat Rizoeva, one of the prisoners, who was recently transferred from the prison #1 of Dushanbe to Khujand, informed that three days ago, he was concluded in the solitary.According to Mehrnigor, if the government will ignore the fate of her son, she will set herself on fire in front of the presidential palace.
Meanwhile, the representative of Presidential Apparatus received the application of prisoners' parents, stating that their statement will be submitted to the legal department of the Apparatus, where they will be thoroughly examined.
As it was noted, the parents of the prisoners have already complained to the Prosecutor General. However it seems like the responses from the General Prosecutor's Office and other authorities did not satisfied the parents and the President of the country is their last hope for a fair solution of their children's fate.