R. Rakhimov: We are struggling against the perpetrators of torture
Submitted by

admin

on 18.01.2013 - 20:13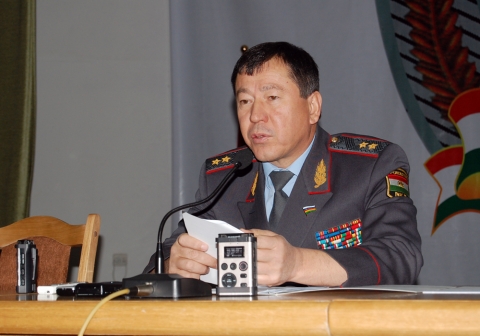 The Tajik law enforcement agencies put a lot of efforts to prevent torture during the detention and investigation, informed the reporters the Minister of Internal Affairs of the Republic of Tajikistan Ramazon Rakhimov on January 18, 2013.
According to him, the fight against torture is one of the priorities of the Ministry. "At the moment there is no funds available in the budget to provide all investigative units with video surveillance cameras, nevertheless other measures are taken, including at the legislative level", - said the Minister, reminding about the introduction of a separate article on "Torture" in the Criminal Code of the Republic of Tajikistan in 2012.
"In addition, we have created a testing center, where every police officer is being tested for aptitude, and among other issues the officer should be knowledgeable about torture prevention mechanisms. I can assure you that every police officer who have been using torture, will answer before the law", - said Rakhimov.
He continued: "One should not think that the only thing police does is torturing citizens. Indeed such cases occur, but have been struggling with this phenomenon".