Tajik Army Urged to Tackle Bullying
Submitted by

admin

on 01.08.2014 - 15:43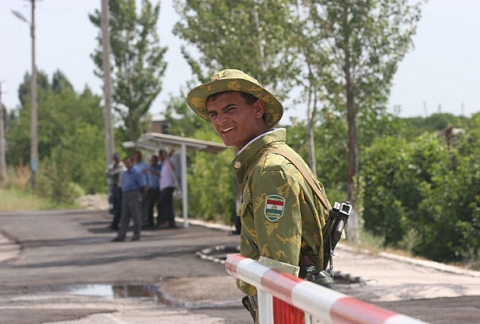 The chronic bullying problem in Tajikistan's military has been highlighted by a recent spate of deaths of young conscripts, which their families suspect were no accident.
In the most recent case, 23-year-old Juraboy Homidov from the village of Kachrovut in northern Tajikistan was found dead at his military unit based at the Ayni airbase in early July.
Homidov, who joined the army in November after graduating from university, left behind a wife and small child.
Military personnel could not give a clear account of the circumstances of Homidov's death.
They told his parents that he hanged himself in a woodshed, but were unable to explain what might have driven him to take his own life, and evaded questions about possible bullying.
"We are still in shock from the death of our son, who was in good health and always on friendly terms with others… We are demanding an explanation of the cause of his death," his father Akram told IWPR, adding that the ministry of defence was yet to respond.
Akram suspects that his son may have died as a result of a beating, and noted the bloody wound seen on the back of his son's neck when the body was returned for burial.
Tajik defence ministry spokesman Faridun Muhammadaliev told IWPR that Homidov's death was still under investigation.
"We know what happened in general terms, but it's too early to draw final conclusions," he said, adding that the ministry was waiting for reports from the military prosecutor's office and the army personnel department.
More generally, though, Muhammadaliev acknowledged that bullying was an issue in the armed forces.
"Such actions have a negative impact on the army's reputation and make it hard to conscript young people for military service," he said.
Experts say this case, the fourth fatality in the army since the beginning of this year, will deter future conscripts from coming forward when they receive the mandatory call-up.
In June, the family of 20-year-old Yermuhammad Kalandarov was told he had gone missing from his unit. It was not until relatives visited the unit at its base and talked to a fellow-soldier that they were told Kalandarov had drowned in a river. At their insistence, an investigation was launched into the circumstances of his death.
When Akmal Davlatov, 19, died in Mastchoh, northern Tajikistan, this April, his family was initially was told he had died from choking on a piece of bread.
But after his parents lodged a complaint, an investigation was carried out which concluded that he died from injuries sustained from a beating. He was serving in the border guards force, which does not come under the defence ministry.
On June 19, a soldier in Akmal's unit, Farrukh Davlatov (no relation) was charged with "abuse of office resulting in a fatality" and sentenced to nine years in prison.
A fourth soldier, 21-year-old Maqsud Nosirov, who was stationed in Istarafshan also in the north, died after being beaten. Four of his fellow-soldiers were prosecuted and went before a court martial in April. They face up to ten years in jail if convicted.
Another high-profile case this year was that of 23-year old border guard Shahbol Mirzoev, who was left with severe neck and spinal injuries in March after suffering a severe assault. He had to be taken to Russia for an operation. On June 19, a court martial in Dushanbe sentenced military paramedic Usmonali Ghairatov to nine years in jail for the assault and ordered him to pay damages to Mirzoev. (IWPR report on this: Tajikistan's Military Dogged by Bullying Problems.)
In May, Tajik human rights groups sent an open letter to the head of Tajikistan's border guards service, Lieutenant-General Rajabali Rahmonali, urging him to take action on bullying.
The Coalition Against Torture in three Central Asian countries, as well as the Belgium-based International Partnership for Human Rights and the Helsinki Foundation for Human Rights in Poland, called on the military to publicly condemn and punish acts of violence of this kind.
The letter also noted that the United Nations Committee Against Torture last year expressed concern about "hazing and ill-treatment" in the Tajik armed forces, recommending that they ensure accountability, compensation and rehabilitation for victims.
Young men in Tajikistan have to serve two years in the armed forces when they reach the age of 18, while those who go to university are called up after graduation and serve only one year. Only sons and sole family breadwinners are exempted from service.
Although service is compulsory, many young men avoid it by going abroad as labour migrants. Aside from the risk of ill-treatment at the hands of longer-serving soldiers, many are reluctant to serve a force with a reputation for insufficient food rations, disease and remote postings.
According to rights activist Faizinisso Vohidova, the recent prosecutions only came about because of the public outcry and the pressure exerted from NGOs.
"In reality, there always have been cases of deaths in the army as result of beatings, but the public knew little about it. Even if someone came across such incidents, they weren't discussed in public," she said.
Vohidova noted that media in Tajikistan played an important role in ensuring that justice was done.
"It's because of the widespread coverage such cases have had in the media that defence ministry officials have recently starting taking their responsibilities more seriously," she said.
Tajik officials have tried to downplay the extent of the problem, maintaining that they are working to tackle the issue and that they investigate every complaint thoroughly.
The military prosecutor for the southern Kulob region, Ikrom Zoirov, told IWPR that more inspections of military units were now taking place.
Border guards commanders have ordered the installation of CCTV cameras in some units to monitor soldiers' behaviour, and Muhammadaliev said the defence ministry might start doing the same for forces under its control.
Human rights lawyer Dilrabo Samadova has represented some of the recent victims, and she says studies conducted by the Amparo organisation have shown that no military unit is free from bullying. Samadova led Amparo, a human rights lawyers' association, until it was ordered to shut down by the authorities two years ago. It is currently appealing against the closure order.
Samadova said that although she welcomed prosecutions, the question of compensation for those left disabled by assaults also needed to be addressed.
Referring to the case of Mirzoev, who will require long-term medical treatment, she noted his father had been forced to sell the family home house to fund the operation he underwent in Russia.
"He still hasn't received any help either from the state or from the border service," she said.
Ashirgul Mirzoalieva, from Kumsangir district in the southern Hatlon region, told IWPR that she and her husband were saving up for the eldest of her four sons to go to university education as he approached conscription age. Although this would not exempt him altogether, it would postpone his enlistment for five years and halve the time he had to serve.
"What mother would want to send her son into the army after hearing about cases like these?" Mirzoeva asked.
Log in to post comments

953 reads