Wife of Sherik Karamkhudoyev seeks meeting with President Rahmon
Submitted by

admin

on 12.10.2012 - 09:45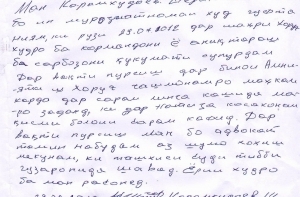 Manizha Shahbozbekova, wife of Sherik Karamkhudoyev, has released an open letter to President Emomali Rahmon requesting a meeting with him.
She wishes to discuss the situation of her husband who was detained during a special operation launched by government forces in Khorog, the capital of the Gorno-Badakhshan Autonomous Region (GBAO) on July 24.
Manizha Shahbozbekova asks President Emomali Rahmon to take investigation into the case of her husband under his control.
Sherik Karamkhudoyev is the head of the Islamic Revival Party (IRP)'s organization in Khorog and IRP reported Sherik Karamkhudoyev as missing on July 24, when government forces launched a massive military operation in Khorog against what it called "militants" following the murder of the regional security chief on July 21.
Two weeks after his disappearance, Karamkhudoyev was revealed to be held in the detention facility of the State Committee for National Security (SCNS) in Dushanbe.  A statement released by Freedom House notes that according to a reliable report, Karamkhudoyev has been subjected to torture while in detention.
Tajik law enforcement authorities claim that Karamkhudoyev allegedly collaborated with Imomnazar Imomnazarov, who was murdered by unknown assailants in his home in Khorog on August 22.
Manizha Shahbozbekova notes that the lawyer hired by their family met with Sherik Karamkhudoyev and investigator of the operational group Fakhriddin Zubaydov on September 29.  Sherik Karamkhudoyev reportedly said that torture was used against him in Khorog before the transportation to Dushanbe.
"During the interrogation my husband said that officers from the SCNS's office in Khorog put a sack over his head and beat him to extort a confession from.  During the meeting with the lawyer, my husband said that torture and psychological pressure were used against him and he insisted on carrying out forensic medical examination," the letter says.
Meanwhile, the Dushanbe-based Human Rights Center says the medical examination of Sherik Karamkhudoyev was carried out on October 4 in the presence of representatives of the SCNS and the Prosecutor-General's Office.  The examination results are expected to become known within the next few days.
According to Karamkhudoyev's lawyers, criminal proceedings have been instituted against Sherik Karamkhudoyev under the provisions of two articles of Tajikistan's Penal Code: Article 187 – organizing a criminal group; and Article 195 – illegally bearing, possessing, and acquiring weapons.
Sherik Karamkhudoyev, however, maintains his innocence and denies all charges brought against him.  He says he was hiding in the artic of one of residential buildings in Khorog when a special operation was launched in the city on July 24 and he then voluntarily surrendered to the authorities on July 29.