Case History Ismoil Bachajonov
Submitted by

admin

on 30.05.2021 - 16:33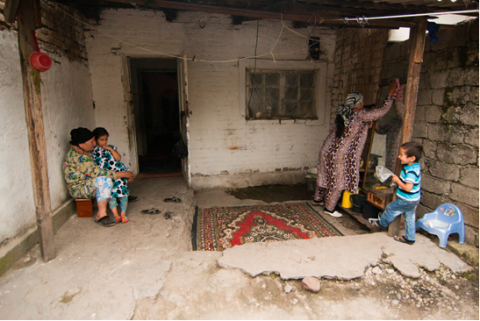 The young woman in a traditional scarf browses through family photos: "This is us in the main square of the capital city, this is us with our first child, here are our three children…"
She pauses to collect herself, overwhelmed by memories and tears. Savriniso Gulova's life is no longer the same. She was deprived of her bit of family happiness and is now a widow. In January 2011 her husband, 32-year old Ismoil Bachajonov died in SIZO (detention facility) Nr. 1 in Dushanbe as a result of physical violence.
In 2009 Bachajonov was sentenced to 6.5 years' imprisonment for illegal possession of drugs and was serving his term in a strict regime penal colony. In 2011 the prison authorities decided that because of "systematic regime violations" he should serve the rest of his sentence in a high-security prison.
Bachajonov was transferred to the SIZO pending transfer to the appropriate type of prison. According to the SIZO officials Bachajonov voiced his dissatisfaction and complained about the court decision changing the conditions of his imprisonment, and was therefore beaten up, allegedly with a view to educating him.
His injuries proved fatal and he died on his way to a medical centre.
Savriniso told me that she was watching TV with her children when the phone rang. A prison official asked the woman to come immediately to the SIZO where Bachajonov had been transferred, saying her husband was in grave condition.
"He was already dead by then but I wasn't told. The whole family knew except for me. I left the older children at home and went to the house of my mother-in-law, carrying my youngest son; it was his first birthday. All my sisters-in-law were there and everyone was crying. I said, let's get a taxi and go to SIZO, Ismoil is very ill. One of my sisters-in-law came up to me, hugged me, and said, weeping: "Be strong, your husband is dead".  I fainted and dropped the child. They revived me with valerian drops. I kept thinking: "How can he be dead?? I only talked to him yesterday and he didn't complain about anything," Savriniso recalls those tragic events.
When Ismoil's body was brought home and she lifted the shroud, she felt unwell – his whole body was covered in dark blue bruises, his arms, particularly his left one, were swollen beyond recognition and his nose was damaged. People who helped bury him later told Savriniso that the wound on his head kept bleeding during the funeral, staining the shroud…
The Prosecutor General opened a criminal investigation into the case, which concluded that several officials were guilty of his death.
In September 2011 three officials of the Ministry of Justice SIZO went on trial. Two of them were convicted of deliberate infliction of grievous bodily harm resulting in death by negligence and of abuse of power. They were sentenced to eight years' imprisonment but their sentence was reduced to six years under amnesty. A third defendant was found guilty of negligence and sentenced to three years' imprisonment but his sentence was revoked under amnesty.
…Like many other girls in the countryside, Savriniso completed only six years of primary education. As she had never had a job, her husband was the only breadwinner, working as a welder at Sultoni Kabir, a major building materials shop in the capital. He would bring bags full of groceries from work every day…
Following her husband's death she had to economize on everything, subsisting solely on the benefits for the loss of the breadwinner for four persons, amounting to 316 somonis, i.e. around 65 USD.
"What does 316 buy these days? My daughter starts school this year. I keep wondering how to feed my children, how to buy them clothes to wear to school, where to get the money," the woman laments.
She can't look for a job as the children are still small, the youngest being only three and the older ones seven and six. "Flour, oil, fruit – that's basically all the benefit will buy. We can't afford any other groceries," says Savriniso.
Life was getting increasingly difficult and in the spring of 2012 Savriniso appealed to the court for compensation of material and moral damage resulting from the death of the only breadwinner.
In June 2012 the Somoni District Court in Dushanbe heard the case of Ismoil Bachajonov's wife, who demanded compensation from the penal institution. Later on, on the initiative of the plaintiff, the Tajik Ministry of Justice Directorate of Correctional Affair, the matter was settled out of court and she received a mere 30,000 somonis, i.e. 6,000 USD in compensation.
The woman hopes she might soon be able to make some extra money working from home but in order to do that she will have to learn a trade – train as a hairdresser, cook or a seamstress. Many international organizations run similar programmes for women in reduced circumstances and Savriniso hopes that someone will respond to her need and offer her training, which will ensure her a stable income in the future.
"My husband was a good man," she recalls warmly. "We had been together for eight years and he had never hurt me. He always gave me presents on my birthday – even if the money was tight, he never forgot to mark the occasion, giving me at least irinki (women's outdoor slippers popular in the countryside)." 
"I remember the time I was expecting our first child. He was so happy when the contractions started! He drove me to the hospital and went around telling everyone that he had become a happy father! But it turned out it was false labour and I was sent back home. As I went to the shops the next day for some sugar, the cashier looked at me and said: ' What's happening? I thought you've given birth already!' It took another two days for our son Ibrohim to come into this world. My husband came to collect me from the maternity clinic with flowers, a cake and champagne," the woman told me.
Then their daughter Noziya and son Isroil were born. Ismoil loved them very much and tried to make sure they grew up wanting nothing. He was happy to have a large family, three children. His own childhood was quite lonely as he had only one half-brother on whom his mother and step-father doted. Ismoil was simply ignored. He grew like grass, trying not to draw attention to himself. That is why I can imagine how he felt when he hugged his children in the evenings, saying: "I've always been alone! I'm so lucky to have you now!"
These days Savriniso has to be both dad and mum to their children. But the youngest son still asks from time to time: "Where's my daddy? How come other children have a daddy and I don't? Let's go to the bazaar and get a dad."
 "His brother and children then tell him off. They show him Ismoil's photos and tell him: 'Here's your dad'", she says.
Savriniso is raising her children to be hard working and to appreciate the value of education. "My oldest son is now in second grade. When he comes home from school he takes out his exercise books, tells his young sister, who will start school next year, to sit next to him and starts to teach her the alphabet, writing and counting. He never goes out at all, while other boys in bunk off school and wander around the neighbourhood looking for scrap metal to sell," Bachajonov's wife told me.
She finds comfort in her oldest son's words: "Don't worry, Mum, when I grow up I will look after you and my little brother and sister. We'll be fine."