"Combating Torture: Experience and Achievements": Internal Security Department of the Ministry of Internal Affairs of the Republic of Tajikistan
Submitted by

admin

on 31.10.2022 - 23:06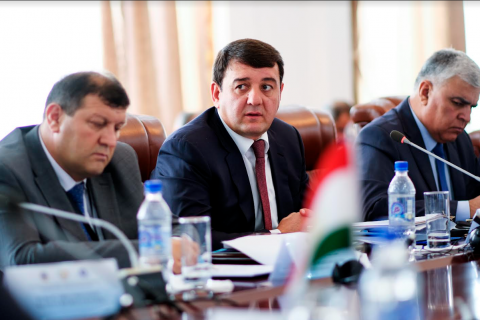 "Torture is a pressing problem in the activities of the country's law enforcement agencies, and the leadership of the Ministry of Internal Affairs constantly requires officers to avoid the use of torture in their work," stated Jamshed Mashrabzoda, head of the Internal Security Department of the Ministry of Internal Affairs of Tajikistan, speaking at the conference "Combating Torture: Experience and Achievements" on October 25 in Dushanbe.
According to him, the Head of MIA Ramazon Rahimzoda constantly stresses that the use of torture is unacceptable, even if the crime remains unsolved. "There is even a small banner hanging in the building of the Ministry of Internal Affairs with a minister's quote: 'Let the crime remain unsolved, but never resort to torture!'" he shared.
According to Mashrabzoda, to prevent torture, unannounced checks of the departments of MIA in cities and districts are carried out, special interrogation rooms for suspects have been set up, with video cameras installed, training sessions on human rights and freedom from torture are held for employees of MIA, and employees' articles on human rights are published on the website of the Department and in its newspaper.
The conference was organized by the Civil Society Coalition against Torture and Impunity in Tajikistan together with the Prosecutor General's Office of the Republic of Tajikistan with the assistance of the OSCE Program Office in Dushanbe, International Commission of Jurists and Sigrid Rausing Trust.
The main purpose of the conference was to discuss pressing issues in the area of combating torture and ill-treatment in Tajikistan.
The conference was attended by international experts, representatives of state bodies, law enforcement agencies, courts, the prosecutor's office, the Office of the Commissioner for Human Rights in Tajikistan, international organizations and embassies, as well as public organizations, members of the Civil Society Coalition against Torture and Impunity in Tajikistan, and the mass media.