Let Us Stop Violence Against Children in Tajikistan
Submitted by

admin

on 15.09.2014 - 09:51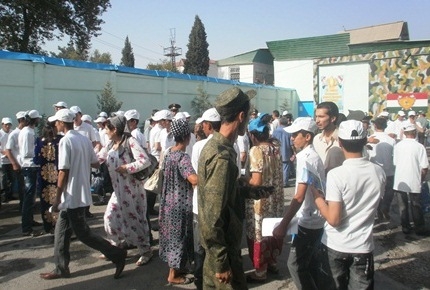 On 16th September 2014, an international conference on Prevention of Violence Against Children will be held in Dushanbe City under the European Union funded project for Gradual Eradication of Violence Against Children in Central-Asian Correctional Facilities.
The conference will be held by the UNICEF, the Office of the Human Rights Ombudsman in Tajikistan, the NGO "Child Rights Center", the Resident Office of the Penal Reform International (PRI) in Central Asia in association with the Tajik government's National Commission for the Rights of the Child.
As seen from the monitoring of children's correctional facilities, undertaken by the Human Rights Ombudsman, the PRI and the Child Rights Center, the issue of prevention of violence against children is relevant in Tajikistan, too. Therefore, to support the recommendations given by the UN Committee on the Rights of the Child, the project primarily aims at stopping solitary incarceration of children in correctional facilities and preventing the joint confinement of minors and adults.
 During the course of the conference experts from Norway, UK, Kazakhstan and Kyrgyzstan will share their thoughts about situation in children's correctional facilities, as well as recommendations on how to improve disciplinary actions for children.
Under the project international standards on protection of rights of children are being incorporated into national laws, legal assistance being rendered to children in distress, educational programmes for the staff of children's correctional facilities being implemented, psychological rehabilitation programme for minor victims of violence being developed and a number of other actions being taken.
For reference: Today the Tajik children who committed offences are confined in a juvenile correctional facility, a women's correctional facility, the National Special School # 1 for children with deviant behaviours and the National Vocational School # 1.
Venue: Conference room Millat, 14 Roudaki Avenue, Serena Hotel, Dushanbe City.
For further information please contact Tojiddin Jalolov, Managing Director, NGO "Child Rights Center", Tel: +992 444 93 12, E-mail: t.jalolov.crc@gmail.com