Tajik parliament votes to improve prison conditions for convicts serving life sentences
Submitted by

admin

on 10.10.2013 - 19:24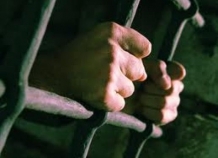 Tajikistan's lower house (Majlisi Namoyandagon) has endorsed the bill requiring amendments to the Criminal Penalty Execution Code of Tajikistan.
A regular sitting of the fifth session of the Majlisi Namoyandagon of the fourth convocation was held in Dushanbe on October 10.
Presenting the bill, the Minister of Justice Rustam Mengliyev said the amendments proposed to the Criminal Penalty Execution Code are aimed at improving prison conditions for convicts serving life sentences.
The minister said prisoners jailed for life will now be entitled to a minimum of two meetings per year with relatives.
"According to the amendments, inmates serving life terms will also be able to receive four parcels a year by mail and four parcels directly brought to the penitentiary by relatives," Mengliyev noted.
The new regulations effectively double the number of parcels and family visits allowed per year.
According to the statistical data from the Penal System of Tajikistan, more than 60 inmates are currently serving life terms in Tajikistan's penitentiaries.
We will recall that Tajikistan announced a moratorium in 2004 on implementing the death penalty. Since then, the maximum penalty given to criminals has been life imprisonment. But the regime for such prisoners was unclear.