Tajik rights defenders recommend making jails maximally available for control by civil society
Submitted by

admin

on 04.12.2012 - 16:38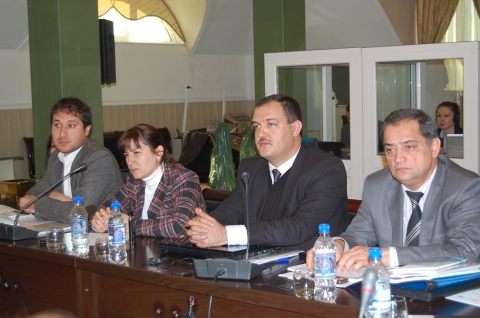 On Monday December 3, Tajik human rights organizations met to discuss the findings of monitoring surveys conducted in closed and semi-closed institutions across the country.
"The main objective of the monitoring was in finding out the situation regarding the observance of the fright to freedom from torture in closed and semi-closed institutions and making this information available to the public and governmental bodies," Qahramon Sanginov, legal program coordinator, Tajik Branch of Open Society Institute/Assistance Foundation (OSI/AF-Tajikistan) noted.
According to him, the monitoring surveys have been conducted for the purpose of preparing an alternative report to the United Nations Committee against Torture (CAT).
The meeting participants noted that there were currently obstacles to determine the true scale and extent of torture  and other ill-treatment in Tajikistan.  There is no official data of use torture and other ill-treatment in the country.
A general analysis of the situation regarding this problem was conducted from January to November this year and opinion polls were reportedly conducted from January to April this year.  The monitoring surveys were conducted in penal colonies and pretrial detention facilities of Dushanbe, nearby districts, Khatlon province and Gorno Badakhshan.
In all, 150 persons were surveyed, including 51 inmates of pretrial detention facilities, five prison inmates, 21 relatives of prisoners, 50 lawyers and 23 persons recently released from jails.
Twenty of 51 surveyed said that they had undergone physical and psychological pressure.
The meeting participants noted that personnel of closed institutions have resorted to ill-treatment because of regional and religious belonging, social positions as well as category of crime for which prisoner is serving his term.
Tajik rights defenders have recommended making correctional institutions maximally available for control by civil society, adopting a separate law on public control over the observance of fundamental human rights in penitentiary facilities and handing over all the detention centers to the Ministry of Justice.