More than 70 people took part in the "cinema club" to commemorate the World Human Rights Day
Submitted by

admin

on 18.11.2020 - 19:35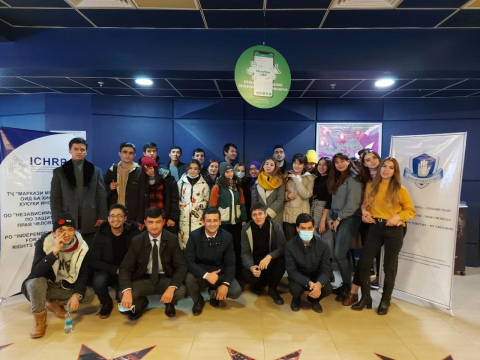 On November 18 in "Kayhon" capital cinema there was held the "cinema club" under the 30-days campaign "Rights! Dignity! Development!", to commemorate World Human Rights Day. The event was organized by the Coalition against torture and impunity in Tajikistan.
More than 70 participants of "cinema club" after watching the film "The Green Mile" (produced by Frank Darabont, written by Stephen King) engaged in a discussion on the topic of Human rights according to international standards and national legislation.
All wishing, over the age of 16, participated in free watching. The purpose of the "cinema club" is to draw the attention of citizens to the supreme value of society – Human Rights.
The film "The Green Mile" is a story told from memory. Paul Edgecomb working as a correctional officer at Cold Mountain Penitentiary's death row during the Great Depression saw many criminals to their final journey from cell to electric chair walking down a long corridor laid by green floorcloth. Year by year Edgecomb has escorted different men down the "mile". But he never met a man like John Coffey – a big black man, convicted for the brutal murder of two nine-year-old sisters...
This event was made possible with the financial support of the European Union within the framework of the "Support for anti-torture agenda and human rights groups in Tajikistan" project